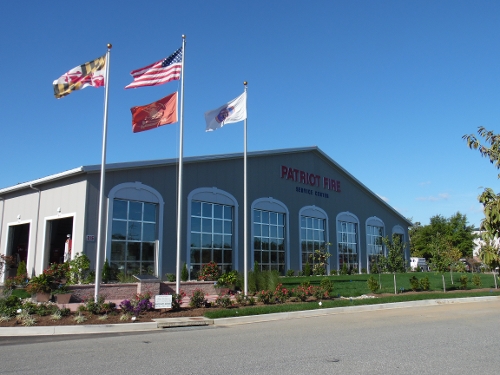 Our principal business is sales, service and repair of fire apparatus, ambulances and other emergency vehicles. Our team is highly experienced in custom metal fabrication, refurbishing, pump overhauls, electrical load distributions, aerial ladder testing/repair, body/collision repairs and complete engineered graphics packages.
Patriot Fire is the E-ONE dealer for Delaware and Maryland and the Ferrara Fire Apparatus dealer for Maryland. E-ONE and Ferrara are leading manufacturers of first responder vehicles including custom and commercial pumpers, tankers, water master vacuum tankers, aerial ladders/platforms, command and communication apparatus, quick attack units, industrial trucks and aircraft rescue firefighting vehicles.
Patriot Fire is also the Frazer, Ltd. EMS Vehicles dealer for Delaware, Maryland, Virginia, Pennsylvania, New Jersey and Washington DC. Frazer, Ltd. produces high quality custom ambulances and emergency vehicles with an attention to detail that easily satisfies all of the needs of your organization.
We are equipped and highly experienced in repairing and servicing all makes of fire apparatus!
Our Mission
Providing the highest quality service and workmanship in the industry.
Delivering the finest apparatus and specialty vehicles.
Employing the most qualified team of skilled professionals to get the job done right.
Quality is our most important product;
When we are out of Quality, we are out of business!