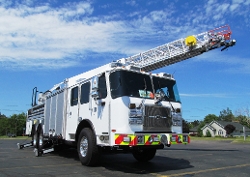 Setting a Higher Standard for Aerial Apparatus
With zero tip overs in more than 30 years, E-ONE's performance and safety is unmatched. Leading the way with advanced engineering and innovative design, every E-ONE aerial manufactured comes loaded with features that enhance crew efficiency, while keeping them safe. Engineered with a 2.5 to 1 structural safety factor which exceeds the NFPA minimum of 2 to 1, results in a complete aerial design that stands stronger, 25% stronger! In addition, the aluminum aerial will not rust, need painting or require rung cover replacement, delivering lower life-cycle costs.

E-ONE has an extensive line of aerials. Here are just some of the available models...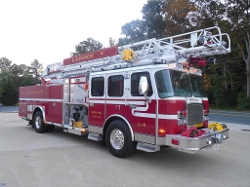 E-ONE HP 78
E-ONE's HP 78 features a 825 lb. tip load for increased rescue capability and additional reach. The ToughTruss™ ladder design features extruded aluminum construction that exceeds NFPA 1901 requirements. The HP 78 can be mounted on a Typhoon, Cyclone II or Quest chassis on a 220 to 230 inch wheelbase with motor sizes up to 600 HP. The 78' ladder has a single set of jacks with a spread of only 16 feet and features a 25" wide fly section which allows a stokes basket to fit between the rails. Numerous options are available to include, but not limited to: Aerial Information System (AIS), pinned waterway, 2.5" valve at tip and aluminum or stainless steel bodies with multiple configurations. Additionally, optional safety features such as airbags and G4™ electronic stability control are also available.

Shown is Snow Hill Volunteer Fire Company's E-ONE HP 78 on a Typhoon chassis.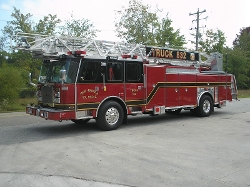 E-ONE METRO 100
Designed with both urban and suburban department's in mind, this highly maneuverable 100' ladder boasts a mere 220 inch wheel base with an 11' jack spread with criss-cross, underslung outriggers for set-up in tight places. Featuring E-ONE's exclusive integral torque box chassis and ToughTruss™ ladder design combined with the Cyclone II low travel height cab, the Metro 100 offers an impressively low 10' 7" travel height (10' 10" with waterway). Many options are available including a pinned waterway, 96" or 100" wide aluminum bodies, airbags, G4™ electronic stability control and 450 or 500 HP motors. The Metro 100 features a 300-825 lb. tip load based on the ladder position.

Shown is Joppa-Magnolia Volunteer Fire Company's E-ONE Metro 100.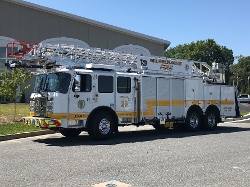 E-ONE HM 100/110
The HM 100/110 aerial ladder offers a low travel height, short wheelbase and tight turning radius for maneuvering on congested streets. The criss-cross, underslung jacks contribute to a low center of gravity and deploy in an industry-leading time of less than 40 seconds. With a mere 11 foot jack spread, it can be set up in very tight areas. Available on the Quest or Cyclone II chassis with optional motor sizes up to 600 HP, the body can be built in aluminum or stainless steel with many configurations, with or without a pump. The HM 100 is rated at a 550 lb. tip load, while the HM 110 is rated at a 300 lb. tip load. The HM 110 shares the same design features as the HM 100 with the added benefit of increased reach.
Shown is Anne Arundel County Fire's Truck 29, an E-ONE HM 100 on a Cyclone chassis.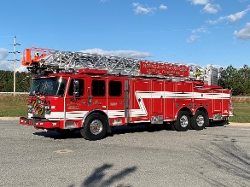 E-ONE HR 100
The HR 100 is compact and maneuverable on tight streets. It features criss-cross underslung jacks that require very little space to deploy. Based on the proven HM 100/110 design, the HR 100 is an extruded aluminum aerial with ToughTruss™ ladder sections. The HR 100 is available in single or tandem rear axle configurations with our without a pump/tank. Available on a Typhoon, Cyclone, or Quest Chassis, with motor sizes up to 600 HP the aerial features a 550 lb. tip load, wet or dry on the tandem axle model, and a 750 lb. dry/550 lb. wet tip load on the single axle version.
Shown is Mount Airy Volunteer Fire Company's tandem axle HR 100 with a Cyclone chassis.
Rounding out the E-ONE aerial line-up, the following models are also available: HP 100, Super Tiller, CR 100, CR 137 and a 50' Teleboom. Contact Patriot Fire for all of your E-ONE aerial needs!