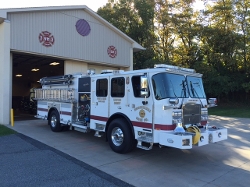 VERSATILE. DURABLE. RELIABLE.
E-ONE custom pumpers and rescue pumpers are the most versatile, durable and reliable pumpers on the market. Offering both 3/16" extruded aluminum and stainless steel bodies, tank sizes up to 1530 gallons and available on either a Quest, Cyclone or Typhoon chassis, E-ONE pumpers will meet your unique needs while exceeding expectations.

E-ONE's custom pumpers offer a wide variety of internal storage options to keep fire suppression and emergency medical equipment organized and protected. At E-ONE, safety is never secondary, which is why our roll cage cab, CrewGuard® and ABS are standard with available options such as airbags and G4™ electronic stability control.

Additionally, E-ONE pumpers can be manufactured with a commercial chassis offering the perfect combination of quality, performance and flexibility to meet your department's operational and budgetary needs.

Shown is Susquehanna Hose Company's E-ONE Typhoon 1500 GPM Pumper with an aluminum body.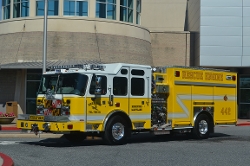 BODY CONFIGURATIONS
E-ONE offers many choices when it comes to pumper body configurations. They are available in 3/16" extruded aluminum or stainless steel.

Pumper options include: 1/2, 3/4 or full-height driver side and/or officer side compartments; enhanced - extended rear and side compartments for up to 23 cu. ft. of additional compartment space; and up to six (6) NFPA ladder/equipment storage options.

Rescue Pumper options include: full height, full depth driver side and/or officer side compartments, extended-enhanced rear compartments, roof top compartments; and ladder storage options such as electric drop down racks, hydraulic overhead racks, high capacity two arm ladder racks or enclosed tunnel storage.

Shown is Hereford Volunteer Fire Company's E-ONE Cyclone II 1500 GPM Pumper with an aluminum Rescue style body.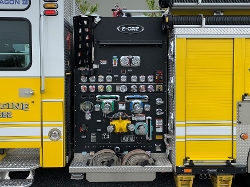 OPTIONS. OPTIONS. OPTIONS.
At E-ONE options are endless. Listed below are some of the options available to meet your department's needs.
• Hinged or roll-up doors
• Adjustable shelves, roll-out trays
• Hale®, Waterous® or Darley® pumps up to 2000 GPM
• Side-Mount or Top-Mount pump controls
• 530 to 1530 gallon tank capacity; integral foam cells available
• On-Board foam systems
• Customizable discharges and pre-connects
• Side, front or rear intakes
• Hydraulic or engine driven generators
• Many more available

Let Patriot Fire help you design your next Pumper!