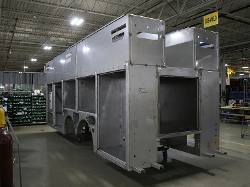 RESCUES BUILT TO LAST
E-ONE engineers extruded aluminum or 304L stainless steel bodies that meet or exceed NFPA standards and are built to last in the harsh environments where they serve. All E-ONE bodies are fully modular in design and construction, meaning the entire body can be lifted away from the frame without body failure. This construction is the most durable and ensures the longest service life in the industry.

With body sizes ranging from 16' to 26', they can be mounted on a Typhoon, Cyclone or Quest chassis with motor sizes up to 600 HP. Commercial platform chassis options are also available.

Shown is Burtonsville Volunteer Fire Department's 24' stainless steel body under construction.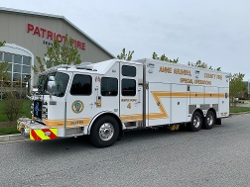 BODY CONFIGURATIONS
E-ONE offers many options when it comes to rescue body configurations. With a choice of walk-in, non-walk-in or a combination of both, all can have compartment configurations designed to meet your specific needs. E-ONE bodies can be built with roll-up or hinged doors, under body compartments, body anchor points for high angle rope rescue and rooftop compartments. Engineered to fit your specifications for hydraulic rescue tools, electric, hydraulic and air reels, your unit can be fully customized. Other available options include: tool boards, trays, custom poly boxes, airbag racks, and many more.

Shown is Anne Arundel County Fire's 24' stainless steel walk-in on a Cyclone chassis.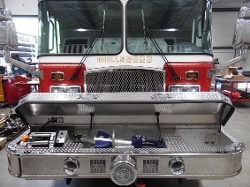 OPTIONS. OPTIONS. OPTIONS.
At E-ONE options are endless. Listed below are some of the options available to meet your department's needs.
• Pump and water tank
• Generators from 5 kw to 75 kw - direct drive, hydraulic or diesel
• Breathing air systems - compressors, fill stations and cascade systems
• E-ONE PTO driven HRT system - 3, 4 or 6 tool systems compatible with most hydraulic rescue tools
• Light tower options on top of cab or body
• Receivers designed for an electric winch or rope rescue
• Multiple bumper configurations
• Many more available

Shown is Millsboro Fire Company's E-ONE Heavy Rescue's front bumper with hydraulic tool storage and cord reel.